First before I get into my post, let me say... I've been featured! Kind of exciting to see my sweet baby girls room featured on another blog.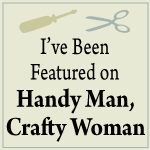 Now, what exciting things are to come? Sewing projects! Why have I rarely done them before? Because I've never had my own sewing machine. So now, at 30 years old I am the proud owner of my own real deal sewing machine.
My mom visited me over this past weekend and she said she needed to visit WalMarts site-to-store, I had no idea why. Next thing you know the lady brings out this big box and it was a sewing machine! My mom said her and my dad just wanted to get it for me. Not for a holiday or my birthday but just because. Those are the best gifts!! (and yes I fought back some tears)
So now I'm wondering where to begin in my sewing adventures. Anyone have any suggestions? As of right now all I really know how to make are pillows. Haha! I'd like to make some clothes for me and my daughter. And of course I'm imagining lots of home decor projects. Actually, the day before I got my new sewing machine, my mom and I were at Hobby Lobby and I spied this fabric.
I was totally inspired! I'm picturing a new direction for my office that includes this beautiful ikat fabric!