...no I don't have it. Though it could be possible since I just met my beautiful new nephew Jackson last week. But no, it is my baby that had the literal fever. Poor girl was sick last week and it broke her Mommy and Daddy's heart.
It started Wednesday when Jake picked Raeleigh up from daycare. It got worse then better then worse then better. Turns out she had Roseola. She's all better now, thank goodness. But at one point she
looked like this.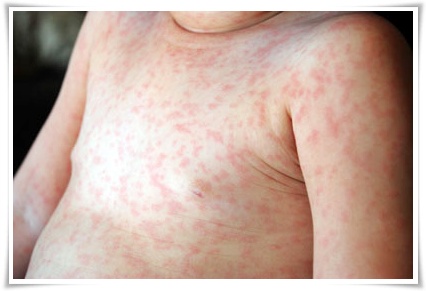 That's not an actual picture of Raeleigh, but that's exactly how she looked. Poor baby.
As far as house stuff... I haven't made a lot of changes. The desk got put on the back burner. But now I've purchased curtains online for the office. So I'd love to have the desk done before they get here so it can really start to come together.
Also, I've acquired my old toy box that I had in the basement at my parents house. It's oak with a big red heart and green vines around it. I plan to paint it and put it in the family room for Raeleigh's toys. So that's another reason I'm anxious to finish the desk. Cause I can't wait to get her toy box done!